Money for college starts by filing your FAFSA. Don't be fooled by some age-old myths.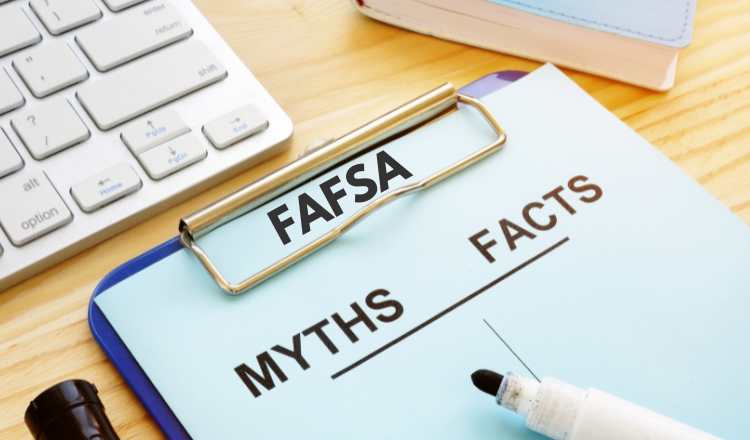 Myth:
My family earns too much to be eligible for aid.
Truth: Even if you don't qualify for need-based aid, you may qualify for other aid e.g., institutional aid provided by your school for example. Additionally, filing your FAFSA provides you with eligibility for low, fixed-rate federal student loans.
Myth: You won't qualify for aid because you don't good grades.
Truth: Federal aid, which is determined by FAFSA, isn't dependent on grades. Grades don't determine if you get need-based financial aid. However, grades can be a factor if you're receiving Merit aid from your school. Merit aid can require maintaining a certain GPA, which is determined by your school.
Myth:
My info is the same as last year, so I don't need a new FAFSA
.
Truth: You'll need either a renewal or a new FAFSA every year. The good news, the second and future years do not take nearly as long to complete as all your data will be carried over, and you can use the Direct Data Exchange Tool that allows you to import all necessary data from your most recently filed tax return quickly and easily. But the truth remains – you need to submit the FAFSA every year.
Myth: You can declare yourself an independent student on the FAFSA to qualify for more aid.
Truth: You must meet certain criteria to qualify as an independent student – it's not just something you can choose to do in the hope of getting more aid.
Just because a student is over 18, they are not considered independent of their parents unless legally declared as an emancipated minor.
Myth: I haven't applied to any schools yet, so I can't file my FAFSA.
Truth: You as you include at least one school. We suggest that you add each school you're even thinking about. You'll have the first piece of the puzzle in place and will be ready if you decide to apply to more schools. You can always edit the school list later by adding and deleting schools. You can list a maximum of 20 schools. Should you change your mind, you can delete one or more of your 20 and replace them as needed.
Myth: I can't afford to submit the FAFSA.
Truth:

You never have to pay to submit the FAFSA. If you see any indication otherwise, you're not on a sanctioned website –studentaid.gov
is the only website through which you should submit the FAFSA. There are many free services to help you complete the form if you want assistance, including RISLA's College Planning Center.
Myth: The FAFSA is long and confusing.
Truth:

It's not as bad as you think it will be, provided you're prepared.
And as mentioned above, you can seek free expert assistance to help eliminate any stress and confusion.
Myth: It doesn't matter when I file the FAFSA.
Truth: Technically, the FAFSA deadline for each academic school year isn't until June 30th. However, there are other deadlines that are also important – your State and/or selected schools most likely have earlier deadlines if you want to be eligible to receive their aid. Be mindful of all deadlines associated with financial aid. Keep track and send yourself reminders so you don't miss any opportunities for financial assistance.