You've decided student loan refinancing is the right course of action for you. Maybe you are sick of your high interest rates, or juggling 4 bills a month from different lenders, or you want a lower monthly payment. Whatever the reason, you've done your research on what student loan refinancing is, understand the pros and cons, and have decided to take the leap.
So, here is the big question: how do you pick your student loan refinancing lender?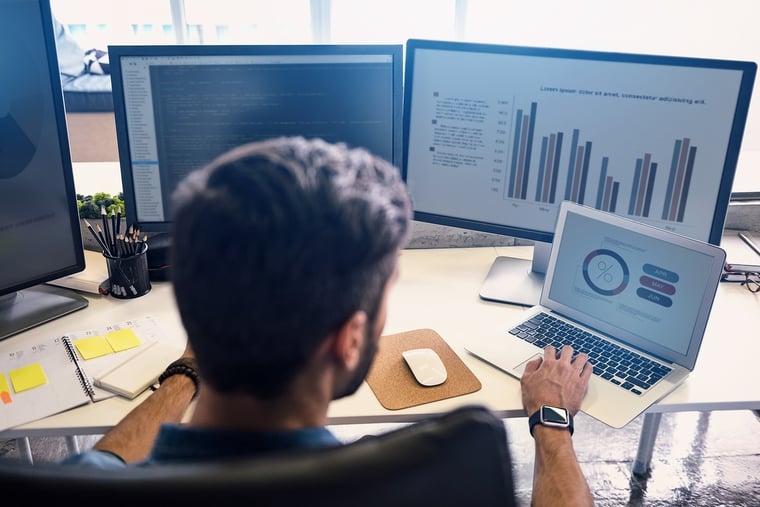 Conventional wisdom may inspire you to simply compare rates, choose the lowest, and be on your merry way. Or maybe you just plan to go to your bank to keep all of your finances in one place, as mortgage borrowers often do. But there can be some major differences in the level of service and benefits student loan refinancing lenders provide, so doing a more thorough comparison is a wise move.
Comparing refinancing rates online has certainly become easier over the past few years, but consumers should beware. "As low as" rates are typically very enticing, but know you aren't likely to be one of the lucky few to qualify for the lowest advertised rates. That is why applying for a refinancing loan requires diligence and sometimes a little bit of hard work. Some sites allow you to get pre-qualified and show you a preliminary rate in just a few minutes, while others will require you to submit a full application while you shop around. It can be time consuming, but trust us - once all of the applying is done, the paperwork is in, and you have your brand new interest rate, monthly payment, and a lender that is actually pleasant to deal with, you will be happy you put in the time to make an informed decision rather than just grabbing the first low rate loan offered to you.
Don't be one of the many borrowers filled with regret about the lender they chose. Be smart about choosing your lender. We've compiled a list of questions to ask and pitfalls to avoid to help you on your way to student loan bliss (if such a thing exists!):
What is interest rate range? Understand what the lowest possible rate you could get is but also understand the HIGHEST rate you could be awarded. Most likely, you will fall somewhere in the middle, but to prevent total shock, you should know upfront what the range is. So, what's the best way of doing this? If the rate range isn't clearly stated on the lender's website, know that lenders are legally required to provide you with Application & Solicitation Disclosures at the time you apply for an education loan. Look at them closely. These disclosures require that lenders list out scenarios at the highest possible rates on these forms, including the total cost of the loan.
What are the fees? Most lenders provide student loan refinancing options with zero upfront fees, but still be sure to verify. Are there fees for applying? What about for origination or disbursement? Repayment? Next, pay attention to those Application & Solicitation disclosures again. There will be a section where the lender outlines other fees, such as late payment fees and returned check fees. Also, review the application & promissory note CAREFULLY. If you default on your loan, there are likely additional fees, but the hope is you'll never get to that point and don't have to worry about them.
What protections does the lender offer? All too often, we encounter borrowers that are just downright angry about their student loan situation. Many students over-borrowed for college, eager to sign whatever it took to attend their dream college. But after graduation, reality set in and those student loans started to feel like a big burden. If you have federal student loans, you have access to some very flexible benefits, including an array of income-driven repayment plans, public service loan forgiveness, and extended deferment and forbearance options. Most likely, your refinancing loan lender won't often as much flexibility as your federal student loans so before you decide to include them in the refinance loan, think carefully about whether you will take advantage of these federal benefits. Whether you decide to include your federal student loans or not, you should understand what benefits and protections, if any, your refinance loan lender has in place for you. For a typical credit card, auto-loan, or personal loan, there are none. If you lose your job or get sick, you are still on the hook for the loan every single month. Your student loans, however, probably come with a bit more flexibility (which varies from loan to loan). Before you refinance, compare protections offered by the refinancing lenders you are considering. Is there forbearance, income-based repayment, forgiveness for death or disability? You want to know they have a plan if things in your life don't go as planned.
How is the customer service? How much do you hate dealing with automated phone lines? What does it take to get a response from a real, live person? How do those people treat you? Do you feel valued and heard? You are most likely going to have a very long term relationship with your student loan refinancing lender, so you don't want dealing with them to be a terrible experience. Give each lender you are considering a call. Explore their website and find out what kind of self-service they offer. See how easy it is to get your questions answered, find out how quickly they respond, and assess how much you trust them. Consider your experience as part of the equation when deciding which lender to choose.
You've made a big decision by deciding to refinance your student loans. Make sure you put the legwork in to make sure you get the best deal available for you.
RISLA offers a refinancing loan with competitive rates and no upfront fees. Learn more about RISLA Student Loan Refinancing.