Deciding on the perfect college to go to is no doubt an arduous task. As the new academic year begins, seniors across Rhode Island will be narrowing down their college options and refining their college lists into a set of 6-8 schools to apply to. How can you help your child make the right decision on where to apply?
1. Help them explore careers and majors.
Have an honest conversation with your son or daughter and ask them questions about the career they want to pursue, what they know about that career, and help them find concrete information on what that career looks like for an entry-level and mid-career level professional. Use tools like bls.gov, salary.com and glassdoor.com. Encourage them to take personality and career assesments (such as those provided through WaytogoRI.org). Be sensitive to your student's goals and desires, but make sure they have the practical information they need to make an educated decision about what to study. If your student is unsure of what they want to study, looking into school that have a wide range of majors might be a wise choice.
2. Take them on the college tour.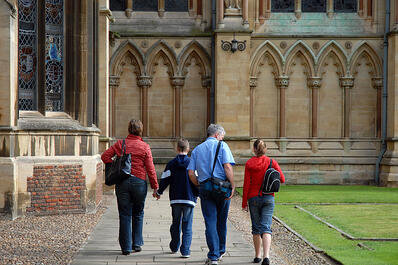 Some students set foot on a college campus and snap - just like that - they decide they love it or hate it. There is much more to a college than how it looks. A great way of learning about the culture and academcis of a college is to take the college tour and sit in on an information session. Be prepared for a fight. High school students can be stubborn. But the college tour is an essential step to judging whether the college will be a good fit, beyond whether or not the campus is "pretty."
3. Rank what's important.
Explore factors to consider when conducting a college search. Have your student make a list of what is most and least important to them in a college. Next, ask them to match up the colleges they are considering to the list of factors to see what might be the best match for him or her.
4. Be supportive.
Maybe you have always had it in your head that your child would go to your alma matter or some other school. But remember, just because you believe it is the right fit, doesn't mean he or she will. Be supportive of the fact that deciding on a college is a difficult choice and one of the first big ones your child will make as a young adult. In order for your child to want invest the time and energy and motivation it takes to complete college, he or she has to be happy with his or her choice. Otherwise, it could end up costing you.