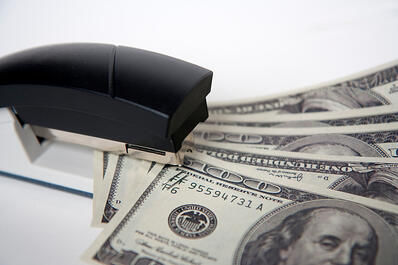 If you have private student loans, you may be considering refinancing those loans. Up until a few years ago, this was barely an option but recently programs have been cropping up to help students and parents restructure their education debt. This year, Rhode Island Student Loan Authority launched a refinancing program that allows students and parents to refinance private student loans, state-based student loans, and federal PLUS loans into a single fixed rate loan.
So what should you be considering when deciding if private stuent loan consolidation is right for your personal situation?
1. Interest rate
One of the primary reasons students and parents are interested in refinancing their student loans is because they want a lower interest rate or want to lock in a fixed rate. Before considering any private student loan consolidation or refinancing program, you should know what the current rates are on your existing college loans, and know if those rates are fixed or variable. Fixed rates tend to be considered safer because they are not subject to change as market conditions change.
2. Monthly payment
Add up the monthly payment on all of your existing education loans. If you want to reduce that monthly payment, private student loan consolidation or refinancing might be able to help you out. There are two major factors that influence your monthly payment: interest rate and repayment term. Fees can also affect your monthly payment so you should be aware of those as well. Typically, a longer repayment term will reduce your monthly payment, but that isn't always the case if it means taking a higher interest rate on your student loans (which we don't advise!).
3. Benefits
If you are considering combining your federal student loans with your private student loans, be careful to understand which benefits you would lose. Federal PLUS Loans have many fewer benefits than Federal Stafford Loans (now referred to as Federal Direct Subsidized and Unsubsidized Loans) and Federal Perkins Loans but you should still understand what wouldn't be available to you if you decided to combine them with non-federal loans.
Below are just some of the many benefits you would lose on your Federal Stafford Loans if you combine them with your non-federal loans. Be sure you won't need to take advantage of these prior to consolidating:
Income based repayment
Extended deferment & forbearance options for hardship or going back to school
Loan forgiveness for public service professionals
Military benefits
Federal student loan consolidation which can reduce your monthly payment
4. Cosigners
You may want to refinance your non-federal student loans in order to remove your cosigner from the note. This may be possible if your credit meets the lender's criteria but keep in mind you will typically get a lower rate when you have a cosigner on your loan.
5. Simplification of payment
Some students think managing their student loan payments is like a full time job. If you have loans with several different lenders, it can be a complex process to manage. Combining those loans into a single loan (or two - one for your federal Stafford and Perkins loans, and another loan for the rest!) can definitely simplify your life. Just make sure that you are not sacrificing a good interest rate, good benefits, or a monthly payment you can afford in order to do this.