Rhode Island employers now have a free new benefit they can offer their employees to help them get a grip on their education loans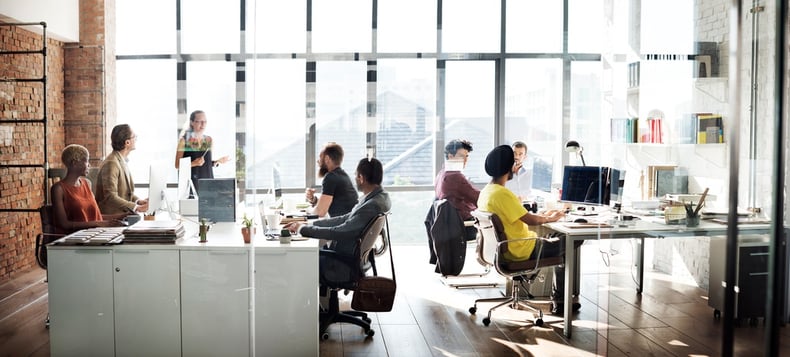 The non-profit Rhode Island Student Loan Authority (RISLA) announced today at its College Planning Center in the Warwick Mall that it will be offering a new online tool to help graduates and parents of college students conquer their student debt. The Student Loan Repayment Solutions tool, offered for free to employers by the non-profit Rhode Island Student Loan Authority, will allow employers to provide a free benefit to their employers which can help them organize, manage, and analyze their education debt, as well as get personalized counseling on how to pay off their college debt.
"Student Loan Repayment Solutions is a valuable tool for families to manage the complexities and expense of their student loans," said General Treasurer Seth Magaziner. "I commend the Rhode Island Student Loan Authority for creating new partnerships and products to help meet the financial challenge our students face."
"The Rhode Island Student Loan Authority is one of the best success stories in the state," said Representative Naughton. "Now they are offering yet another tool for graduates still paying off student loan debt. Between loan forgiveness programs and debt refinancing, as well as a host of other options, the counseling offered through the Student Loan Repayment Solutions will not only help them manage their debt, but will be a benefit to employees and employers alike. This partnership will help a lot of struggling people."
Nationally employers are realizing that the number one concern that many employees have are their education loans. "Not only do millennials carry debt, but they struggle with it. A majority report having too much debt, difficulty in making payments, and worries about it… Moreover, even several years after college, the percentage of those worried about repaying student loans remains high," stated Annamaria Lusardi in the Wall Street Journal on Oct 5, 2015.
The student loan crisis has exploded over the past decade:
There is currently $1.2 Trillion nationally in college debt
Grads have an average of $35,169 in federal student loans which is the second-highest in the nation
There were over $127 million in federal parent (PLUS) loans taken out in RI in 2015/16
RISLA's online Student Loan Repayment Solutions counseling tool will help borrowers understand how to best deal with their education loans for their individual circumstances. For example the majority of the loans that a student borrows are federal loans and there are as many as eight different repayment plans to choose from.
"For ten years RISLA has been providing in person financial literacy seminars for high school and college students and we recognized that there was a need to make student loan repayment counseling an online resource that was scalable, convenient and confidential for employees." Said William Bianchi, Financial Literacy Manager at RISLA. "I believe this is the first state based program in the country addressing this issue through employers."
RISLA's free tool and one-on-one counseling will help empower employees to get a grip on their education loans by:
Helping employees gather and organize their student loan information
Counseling employees on payoff strategies, refinancing, consolidation and income-driven repayment plans
Educating employees about loan forgiveness programs they may qualify for
Determine best course of action for achieving their goals

Reducing payments, cutting finance charges, simplifying life, decreasing interest rates, etc.
The problem of college debt isn't limited to just students and grads. All too frequently, parents are also burdened with high interest rate education loans they have taken out for their children. It is not unusual for parents to have multiple federal PLUS loans with interest rates of 7.9 or 8.5%.
Several companies have already recognized the value that this can provide and have enthusiastically agreed to make it available to their employees.
"The Rhode Island Student Loan Authority (RISLA) is a tremendous resource for us and our clients, many of whom are overwhelmed by their student and parent loans. RISLA has helped a number of our clients refinance their student and parents loans, saving them thousands of dollars in interest. Charlie Kelley and his staff provide thoughtful and proactive solutions for our clients as they navigate through the maze of college funding choices." Donna Caccia, CPA and Partner – Cayer Caccia CPAs
"Recent graduates and current and future students entering the accounting field are required to obtain 150 college credits, as well as successfully pass all four sections of the CPA exam, to receive their CPA designation. Today, many students meet this requirement by continuing on with their graduate studies, which often results in increased student loan debt. RISLA already provides seminars to help employees to better understand their student loan repayment options, and now the addition of this new online tool will be a very helpful resource that we can make available to all of our employees, especially our newest professional staff." Steven Loffredo, Human Resources Director – KLR
"Improving access to higher education, particularly by making it more affordable, is critical in keeping pace with improvements in technology and increased competition in the global workforce. Those efforts will take time, but RISLA isn't waiting around for a massive overhaul, it's addressing the symptoms head on, right now. As soon as I learned about the Student Loan Repayment Solutions tool that RISLA built, I was immediately able to see its value. I believe it will be able to help a lot of people ease the burden of student debt, and I'm eager to share it with our team at MojoTech." - Jacob Brier, Operations Director at MojoTech.