Providence, RI (May 1, 2017) – Employers and students gathered today at the State House in recognition of the important role that internships play in developing a skilled workforce, retaining the best talent in Rhode Island, and opening up opportunities for new college graduates. The event, the Bridge.jobs Internship Summit, commended employers for their exemplary internship programs, provided opportunities for students to learn strategies to increase their employability, and fostered connections between RI employers and college students through networking opportunities.
The Bridge.jobs Internship Summit kicked off with an employer recognition ceremony. CVS Health, Social Enterprise Greenhouse, RISD Museum, IGT, BankNewport and FM Global were applauded for their exemplary internship programs.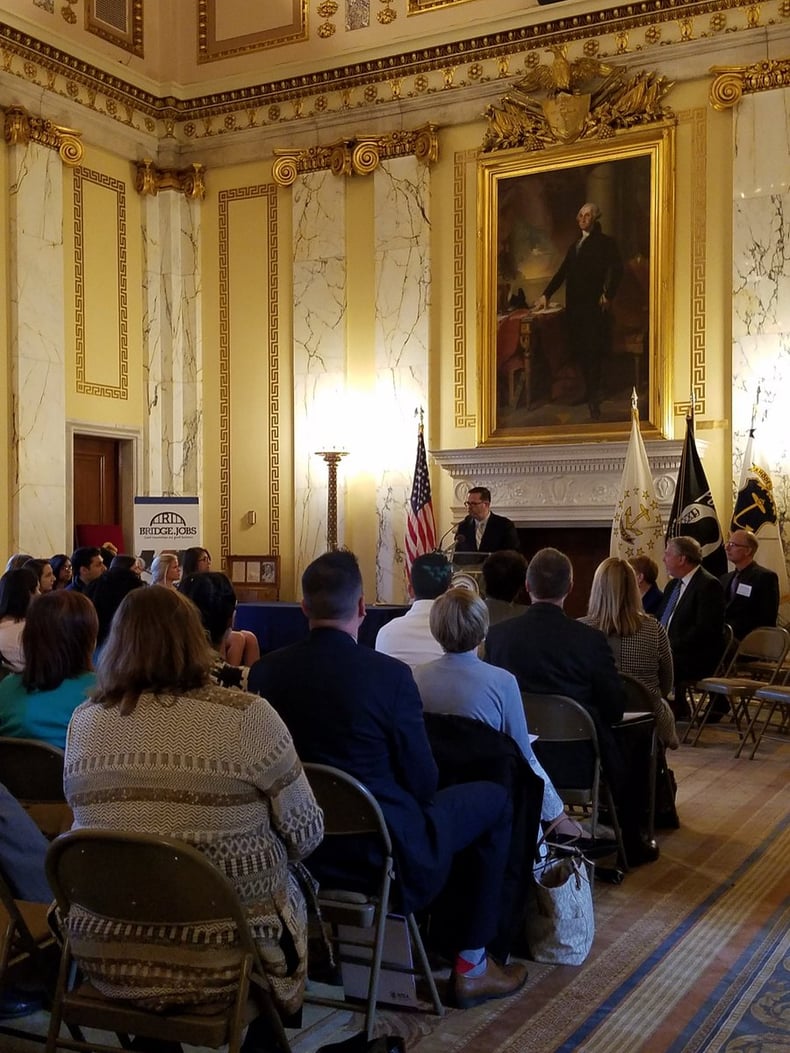 "College students in our Corporate Intern Program have the opportunity to gain real world work experience, while CVS Health business leaders have the opportunity to pre-recruit top candidates for full-time opportunities in the following year," said Christy Del Regno, Director of Diversity and University Recruiting at CVS Health. "Given the dynamic nature of health care, we look for not only top performing students academically but also strategic thinkers who take an analytical approach to our business and who bring valuable leadership and collaboration skills to our organization."
A recent survey run by the National Association of Colleges and Employers (NACE) showed that 72.7% of interns are offered full-time employment at the completion of their internship. In the same survey, employers indicated that converting interns into full-time employees is the primary goal of running internship programs. These results underscore the importance of internships in increasing employment opportunities and creating a more skilled workforce.
At the event, students had the opportunity to network with RI employers during an internship fair and attend breakout sessions on creating a personal brand through social media, building relationships & networking, translating strengths to a resume, and diversity & cultural competency. Meanwhile, employers attended a session on building and strengthening a successful internship program. The event wrapped up with a networking luncheon where employers and students had the opportunity to speak face-to-face.
"Since we launched Bridge.jobs less than five years ago, nearly seven thousand area students have registered in hopes of finding an internship in Rhode Island," said Charles P. Kelley, Executive Director of RISLA, the agency that hosts the Bridge.jobs website. "We are proud to work with our partners to make hundreds of opportunities available to students, but it is imperative that even more Rhode Island employers start hosting interns. Internships are a gateway to employment opportunities, a more skilled workforce, and a revitalization of our economy. That is why we are making a major push to grow this successful program."
Bridge.jobs was launched in 2013 to encourage work-based learning for students, youth, and adult learners throughout Rhode Island. The objective of the program is to increase the work readiness, knowledge, and skills of the current and emerging workforce in the state, while giving students and adults greater opportunities to remain in RI and contribute to the state's economic growth.
Bridge.jobs is a partnership between RISLA, the Governor's Workforce Board, the Association of Independent Colleges and Universities of RI, the Greater Providence Chamber of Commerce, and Rhode Island's public colleges and universities.