Week 3 of "What Inquiring Student Minds Want to Know" is for those preparing for acceptance in 2021.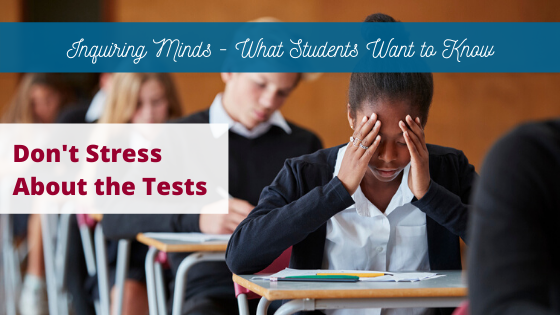 Q3: How will admissions requirements change as a result of standardized test cancellations?
Don't Stress about the Test. A key goal for school admissions is to maintain attendance standards. As standardized testing has been cancelled this year, schools are adapting to these changes in various ways. Some are making accommodations to their admission criteria while others are considering online learning and /or using the Pass/Fail grading system versus a numerical grade. Check the admission website for the school(s) you are interested in for more details.
Test Optional
Test optional has been becoming increasingly more popular over the past few years with more schools changing admission criteria to test optional each year. With the events surrounding the pandemic and test cancellations, schools are considering additional flexibility. For those schools with previous test optional criteria, things will remain very much the same. Other schools may deploy the test optional option for the class of 2021 due to the cancellation circumstances. Others schools are reconsidering the weight of test scores in the admissions criteria as many schools want to consider students holistically to determine a best fit for their institution.
Year End Online Learning
Colleges and universities have a first-hand awareness of the challenges of providing 100% online learning and how quickly this had to be deployed. They understand the challenges students have been faced with and are also aware how much this experience can vary school to school. Some schools are still providing high school students with numerical grades and others have moved to a pass/fail model. All of these variations are being looked at on how to adapt admissions criteria for the next class in order to best meet the needs of the students and the school in redefining admissions criteria.
ACT vs SAT Recap Reminder
The SAT and ACT are standardized tests that help colleges assess you in comparison to other applicants. But how do you know which test you should take? Most colleges will let you know if they require one test or the other, so be careful to review application requirements at specific schools. Some more competitive schools may also require the SAT II (subject tests). Some students find that one test helps show their strengths (or weaknesses) more than the other test. Which test is best for you?
.
Free assistance is available at the RISLA College Planning Center if you need help at any point throughout the college planning process. Book your appointment online at collegeplanningcenter.org.
Don't forget to check back next week for Question 4: What additional advice would Admissions give to students who may be feeling a bit overwhelmed?