Ah, college...there is nothing quite like the excitement of going out on your own to a place with endless possibilities for reinventing yourself, learning, and constructing your new reality. But moving away from home into a tiny dorm (with a complete stranger!) can absolutely give you a case of the jitters.
Figuring out how you're going to survive your first year of college can be a little scary. You don't have mom to do your laundry; you don't have dad to hang your favorite piece of art on the wall and whip up that home-cooked chicken you crave; your best friends are hundreds of miles away. It's a little intimidating at first, no doubt, but once you develop a routine and a certain level of comfort at school, you'll be walking around campus with confidence (and dare we say, "on sunshine?").
It's time to come up with a solid plan so you can live happily and independently during your first year of college without relying on your friends and family back home.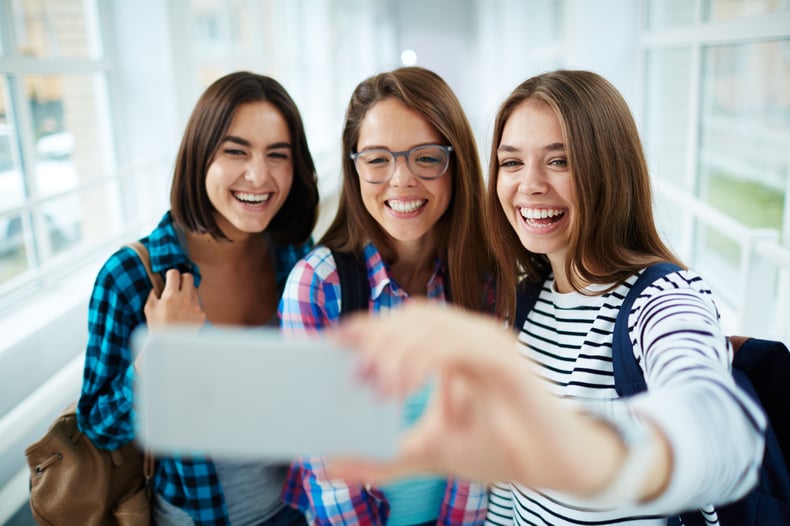 12 Tips to Surviving Your First Year of College:
Go to all days of on-campus orientation even if it includes your 5th tour of the campus. It is a good idea to pull out your semester schedule and figure out which classes are in which buildings. Compare your school schedule with your roommate and dorm neighbors and see if you have any mutual classes. If you do, plan to get breakfast before your 8am and walk together!
Bond with your roommate(s) and get to know your neighbors! (Check out our infographic on how to be a good roommate) There are a lot of free activities for students on college campuses. Take advantage of the things that the activities board organizes. There is no better way to create long-lasting friendships than bonding with another over something that you both love.
Get organized in your own way. You no longer have teachers assigning you school supply lists, and your parents scheduling out time for your activities and homework. It is time to become independent and find what style or organization works best for you. Do you like using a notebook and folder or do you prefer to use a binder with loose-leaf paper? Keep a scheduling book or keep track of everything on your phone calendar? It's up to you to make your own path and be responsible.
Find your place to study. There are always a few hidden gems around campus. Maybe it's the third floor of an academic building or underneath the willow tree in the quad. You want to be in a distraction-free environment where you can focus and get work done.
Go to class and strive for excellence. This is so important! You and your family aren't paying all this money to lay in bed all day and watch Netflix. Put your best foot forward and ask for help when you need it! Set goals for yourself like "making dean's list" or "getting at least a 3.0 GPA" every semester. Write down your goals. Post them on your wall. It's easier to achieve your goals when you have a benchmark you want to reach and you keep yourself accountable!
Get a planner to keep track of important dates, deadlines and schedules. Whether you choose an old fashioned paper version or a mobile app, an agenda is the best way to make sure you don't miss something important. In my agenda you will find: school assignments, social events and my work schedule! I never missed an assignment or event after I started using an agenda.
Introduce yourself to your professors after the first class - this is your first opportunity to stand out from the crowd. Creating a rapport with your professors starting day one is a great idea, you will stick out in their mind because you had the confidence to go out of you way for a formal introduction. Building relationships now could even potentially lead you to job connections, internship offers and more down the road.
Become familiar and comfortable with your academic adviser. This person will be the one to guide you when it comes to courses, majors/minors, etc. Having a good relationship with your academic adviser is critical. He or she will be the one who have to sign off on a form when you want to switch classes, so be sure to stay on their good side!
Balance. It is important to find the happy medium of social activities and school work! Trust me, it takes some trial and error in order to find out what will work best for you. Use your agenda to help ease your balancing act! The first couple weeks are tough because you never want to miss out on a social event, but remember you are at school to study first!
Get involved. Go to the club fair and sign up for things that interest you. Maybe you never got to be in the school play in high school. Now is your opportunity. This is one of the best ways to meet people and make friends on campus. Being a part of an on campus club can even turn into more than just a hobby. Who knows, maybe by junior or senior year you will be on the executive board (good leadership experience for future jobs!).
Seek resources if you need it. Whether you need someone from the writing center to take a look at a final draft of a paper or you need to talk to someone from counseling services to help you manage your stress, there are more resources available to you on a college campus than you could ever imagine. Don't be shy about taking advantage of them.
Freshman 15 does in fact exist. Use the gym and try to make healthy choices in the dining hall. This means it is time to get creative. Instead of having 3 tacos for dinner, try putting the fixings from inside the taco on a salad - voila, taco salad! Having trouble getting yourself to the gym? Find a gym buddy that will join a class with you to help you stay motivated and on a regular exercise schedule.
The first couple weeks may be overwhelming and that is completely normal. I went through it, your friends are going through it, and now it's your turn! Keep in touch with your family and friends from home, but know that everyone else is in the same boast as you. Use each other and all of your resources to help you survive freshman year!
If you haven't quite figured out how you're going to pay for your college education yet, download our free guide to college borrowing to help you out when it comes to borrowing for college.