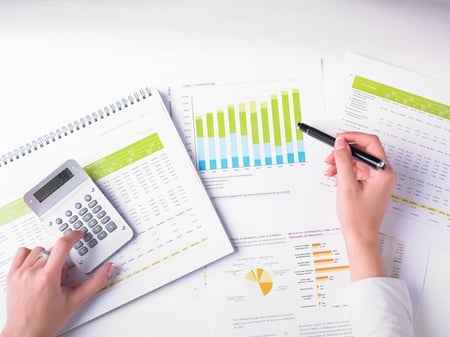 When the time comes to pay for college tuition, most families find that they will need to borrow in order to meet the bill. You may have heard student loans called "good debt" since they can help increase a student's earning potential and societal contributions. However, no debt is good debt if is taken on irresponsibly.
So, how do you determine if you are being responsible when taking on student loans? That really comes down to two things:
How much should you borrow for college?
How much can you afford to repay?
If you are a parent, it might be a little easier to determine how much you can afford to repay. You know how much your family earns, and you can analyze and arrange your budget to determine if the student loan payments will fit in. But there are a few things to keep in mind, like taking into consideration that this year may not be the only year you need to borrow. If this is your first year borrowing, will you be able to afford to repay four times the amount you are borrowing in year one?
RISLA has tools that can help you answer these questions. First, estimate your loan payments using the loan repayment calculator. Keep in mind this is a simple calculator that doesn't take into account deferment periods and fees which can change your payment amount. Input the amount you plan to borrow this year, with the interest rate you are receiving and the amount of time you have to repay your loan. Then increase the total by the amount you have already borrowed for college or will need to borrow in future years.
Does this payment fit into your family budget? Use the budget calculator to find out. Deferring repayment on the loan may help now (if possible on the loan that you choose - not all loans have this option!), allowing you to finish paying off another piece of debt, such as a large credit card bill or your mortgage - but in many cases it is just pushing the problem into the future. If you can't afford the payment now or in the future - whenever you have to start repaying the loan- you may need to rethink your strategy of helping your child pay for school.
For a student, it might be a little trickier to determine how much you will be able to afford to repay. If you take out a loan that requires payments now, will you earn enough while in school to make payments or will your cosigner be able to make payments on the loan while you are in school? What about after you graduate? What is your planned career path?
While you may change your career plans, it is always wise to keep this question in mind. Earnings can be drastically different depending on the career you choose. For example, if you plan to be a graphic designer, it is good to know that the average grad starts out earning about $32,620 in Rhode Island. But, if you plan to be a software applications developer, you are more likely to graduate making about $54,980. Annual earnings makes a big impact on how much you can afford to repay after college.
As a general rule of thumb, you don't want to borrow more than 90% of your expected starting salary after graduation - across all years of school. In the example above, the software applications developer shouldn't borrow more than $49,500, or about $12,350 per year (for a four year education). This includes all loans - Stafford, Perkins, private student loans and state-based student loans. A payment on $49,500 in loans at a 5% interest rate would be about $525/month. Calculate your earnings and determine how much you can afford to repay based on your career choice.
If you need to borrow for college - instead of asking yourself "how much should I borrow for college?" start thinking about "how much can I afford to repay?" This mind set will help you start off borrowing the responsibly and lead you and your family to a healthier financial future.