At the College Planning Center, we often hear the same question from parents and students: "How much
financial aid can I get?"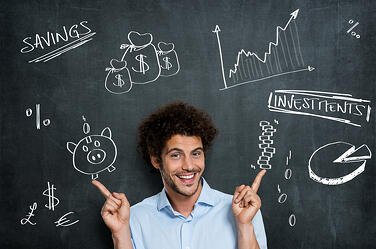 The sticker price on a college education is much higher than most families can pay out of pocket. But fortunately, there are billions of dollars in financial aid available each year that are awarded to help make college more affordable. So, how do you get your piece of the pie and how do you know how big that piece will be?
How much financial aid you get comes down to two things:
How much you are eligible for
Where you go to college
Financial aid eligibility
Your financial aid eligibility is determined by two factors.
The first is the Cost of Attendance (COA). The COA of each college is different and includes tuition & fees, room & board, travel expenses, living expenses, books and other miscellaneous expenses. The school's financial aid office comes up with a total COA for each student based on where they live (travel expenses vary based on where you are coming from) and if they are living at home or at school.
The second factor is Expected Family Contribution (EFC). Your EFC is determined when you apply for financial aid. When you submit the FAFSA, the federal goverment makes an assessment of your family's assets, income, household size, number of children in college, age of oldest parent, and other factors and determines a figure called your EFC. This is what the government believes a family like yours can afford for college. (You may disagree!)
The school may also require you to complete a CSS Profile or some other financial aid form and may determine a secondary institutional EFC for your family based on a different formula. The school can use this institutional EFC for awarding their own private aid but the official federal EFC is what they required to use when determining your eligibility for federal student aid.
Your eligibility is determined by simple math once you know your COA and EFC:
COA - EFC = Financial Aid Eligibility
Where you go to college
When I was applying to college, I looked at schools across a very big range of prices. Some of the schools on my list were state schools with lower price tags. Some were top-tiered private colleges with the prices to match their reputations. Many students today hear that they shouldn't even look at those top-priced colleges - that they are too expensive and will never be affordable. I'm sure someone said it to me at some point, and I am glad I didn't listen. Here's why:
The fact is your financial aid eligibility doesn't give you the whole picture as to how much financial aid you will actually get. Where you go to school, and how deep that school's pockets are, also play a big part in the total amount of financial aid you are awarded. Sometimes those top-priced schools have larger endowments that allow them to give more generous financial aid awards.
After a school determines your eligibility, they have to figure out how much financial aid they have to give to you. Federal grants and loans have annual limits and the school will typically max out the amount you qualify for first. Not everyone will get a federal grant as you must be eligible. Next, the school will apply any state grants you received. Whether you qualify for a state grant is usually determined by your state when you complete your FAFSA (You must do this by March 1 to qualify for the RI state grant!). The school will then take into account any scholarships you received, from the school or elsewhere. Finally, the school will award you money from their personal financial aid funds.
Some schools pledge to meet 100% of a family's financial need and will make sure that these awards achieve that for your family. Other schools simply can't afford it and must balance the amount of aid they award throughout the whole accepted and enrolled classes.
The Net Price Calculator
With all this being said, there is a way to estimate what a family like yours will receive from a particular school before you even apply. Federal regulations require that colleges have a "Net Price Calculator" on their website. A good place to look for it is on the financial aid website. If you can't find it, call the financial aid office to find out where you can use it.
With the Net Price Calculator, you enter some basic information about your family and the school provides an estimate of what a family like yours will receive in aid. It is only an estimate so there are no guarantees but it gives you some insight before you apply so you aren't going into the process completely blind.
We recommend using the Net Price Calculator for all schools you plan to apply to.
Need some help applying for financial aid?
The College Planning Center is a free service that can walk you through your financial aid applications. Book an appointment today.