We get asked lots of questions about student loans every day. We're here to help, and we love questions! So to save you some trouble, we've compiled this list of the most Frequently Asked Questions from student loan borrowers.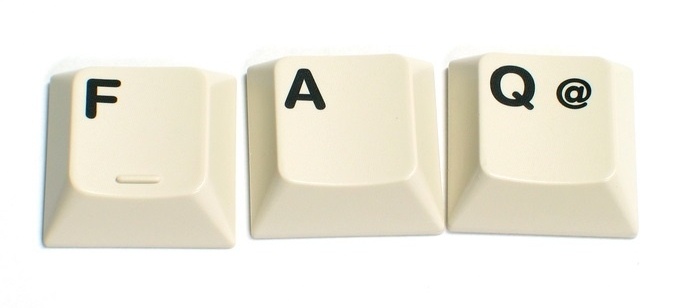 What is the difference between a federal and private student loan?
Federal student loans differ from private student loans in many ways. The interest rate on federal student loans are fixed and tend to to be lower than private loan rates (but not always). You don't need to get a credit check or cosigner for most federal student loans, although there is a credit check for federal parent loans for college. The major distinguishing factor between federal and non-federal loan options is where the money comes from. The Department of Education and federal government provide funds for the federal programs, such as the Direct Subsidized and Unsubsidized Loan program and the Federal PLUS Loan. Non-federal loans are provided through private sources and may be provided through a for-profit or non-profit lender.
What is the difference between fixed and variable rates?
Federal student loans all have fixed interest rates set the May before each academic year. Having a loan with a fixed rate means that your interest rate will remain the same for the entire life of the loan. Some state-based and private loan programs, such as RISLA's Student Loan, also offer competitive fixed rates.
Fixed rates may be higher than variable rates right now since variable rates have been historically low in recent years. Variable rates, however, may begin with a lower interest rate but may fluctuate at different times. Variable interest rates are connected to an ever changing index such as Prime Rate or LIBOR that makes it impossible to know how rates will fluctuate. When rates fluctuate, so do monthly payments. If you are taking on a variable rate loan, you should have an appetite for risk and some flexibility in your monthly budget.
Who is eligible for federal student loans?
To determine your eligibility to receive a federal student loan, you must fill out the Free Application for Federal Student Aid (FAFSA). In addition, the FAFSA will also determine your eligibility for other federal student aid, such as grants and work-study.
Do I have to make payments while In school?
With a federal student loan, you will not have to make payments while you are attending school at least half time, until you graduate, or cease to be enrolled. Whether or not you have to make payments on your state-based or private student loans depends on the individual program. Most of these programs require a cosigner, and if payments are required, the cosigner may be able to afford to make them until the student can take over.
What kinds of repayment plans are available on student loans?
Federal loans offer many different types of repayment plans. Graduated payment plans begin low and gradually increase over a course of time. Extended repayment plans offer low monthly payments over a longer period of time (which usually results in paying more finance charges over time). There are even income-driven repayment plans that will allow your payment to be ten or fifteen percent of your discretionary income. With income-driven plans, your monthly payment will change as your income changes. Learn more about federal student loan repayment plans here.
In many cases, non-federal student loans may not offer many repayment options, although there are exceptions, such as RISLA's Income-Based Repayment program.
What is student loan consolidation?
If you find it difficult to keep track of your student loan payments because you have multiple loans, it may be a good idea to consolidate your loans through the Federal Consolidation Loan program. Student loan consolidation allows you to combine all of your federal student loans into one monthly payment. The interest rate will be the average of the existing rates.
Student loan refinancing is similar to consolidation, but is offered through non-federal lenders. You may refinance your private and state-based student loans, but not through the federal consolidation loan program. With a refinancing program the rate you receive depends on the program and possibly your credit rating, not on the rates of your existing loans. If you refinance your federal loans with your private education loans, you lose all of your federal benefits including income-driven repayment.
Want to learn more about refinancing? Download RISLA's Guide To Student Loan Refinancing for more information.
Is my rate based on credit?
Federal loans interest rates are not based on credit, as those rates are fixed by congress and are identical for all borrowers. There is a credit check on federal PLUS loans. Private loan interest rates will vary and yes, your credit can affect your rate! This will depend on your lender and your loan option. However, regardless of whether or not your rate is based on your credit, your credit will be checked as part of the approval process. We know this is tricky for student borrowers who often haven't yet established a credit history. Keep reading for more on that.
What is the repayment term?
The answer to this question will vary based on your loan type and repayment schedule. A typical loan repayment schedule for federal education loans is 10 years, so you'll start with that as a default and then will be able to negotiate a different term if necessary. Private loans typically have fixed terms with less flexibility for extension, although there are exceptions. For example, RISLA offers an income-based repayment program to qualifying borrowers, which can extend repayment up to 25 years.
What's my monthly payment if I borrow $xyz?
We've built a calculator that can help you to estimate your monthly payment based on the total you borrow, your interest rate, and your repayment period. Keep in mind that you payment is likely to be higher than the estimate if you are deferring your loan until you finish school since your balance will include capitalized interest.
When is my first payment due?
If you have a federal student loan, your loan will automatically be deferred until after you leave school or graduate. After that time, you will have a 6 month grace period before your loan enters repayment. Federal PLUS Loans for parents go into repayment right away unless you request the loan be deferred until the student graduates. A Federal Direct Consolidation Loan does not come with a grace period, so keep that in mind if you decide to consolidate. Private education loans may enter repayment immediately or may have deferred repayment. Be careful to understand when your first payment will be due before you borrow. RISLA offers two options: an immediate repayment loan and a loan where you can defer the payments until after graduation. See details.
How are student loans disbursed, and who gets the money?
When borrowing for college, you typically borrow for the full year, not just a semester/term. However, even though you only fill out a single loan application per year, student loans are disbursed at the beginning of each academic term, which for most students means a spring and fall semester disbursement. Most lenders send the funds directly to the school. Typically, the school will apply the loan money toward your tuition, your fees, and any room/board costs if you live on campus. Whatever is left over comes to you via a check or a direct deposit to a linked bank account so you can use it for books, living expenses, etc.
How do I complete a loan application and how long does it take?
Student loan applications are typically pretty simple. RISLA's application takes about 10-15 minutes to complete and you'll receive an instant credit decision after you submit. After being pre-approved, you'll need to collect some additional documents (such as tax forms, pay stubs, or bank statements) and send them to your lender. Private lenders are also required to have you "accept" and "self-certify" your loan which is a quick and easy process.
What are the limits on borrowing?
Federal direct student loans have both annual and aggregate limits. You can view those limits here. RISLA's minimum loan amount is $1,500 and our maximum loan amount is $45,000 per year but you cannot borrow more than the difference between the total cost of attendance and the other financial aid you have received. Your school will certify the numbers.
Who is eligible to borrow?
Any student who completes the Free Application for Federal Student Aid (FAFSA) is eligible to borrow through the Federal Direct Student Loan Program. Depending on your financial circumstances and the cost of the school, students may qualify for a subsidized (interest paid by the government while the student is in school) or unsubsidized loan. Parents can qualify for a federal PLUS loan after completing the FAFSA and passing a credit check, but be careful to compare this loan with other options as you may be able to get a more favorable rate and lower fees with a non-federal loan option. In order to borrow from RISLA, you must be either a Rhode Island resident or attend college in Rhode Island. There is a credit check and other eligibility requirements as well.
Will I need a cosigner?
Federal student and parent loans do not require cosigners. For private loans, you will most likely need a credit-worthy cosigner and even if one isn't required, you are likely to receive a better interest rate if you add a cosigner to your application. Most students simply don't have the credit or meet the minimum income requirement to borrow on their own, so a co-signer is usually necessary.
Still don't see the answer to your question? Get in touch and let us help!