Rhode Island is the smallest state in the US but is the home to 11 great options for higher education. Whether you want a big or small school, public or private, urban or rural school setting - your perfect college match can be found in little Rhody! Each school offers a diverse set of majors and programs to appeal to prospective students. If one school you're looking at doesn't have the specific major you wish to pursue, chances are that another university nearby will.
The city of Providence alone hosts 5 colleges and universities, making it a city that always has something to do. The other 6 institutions are spread out across RI, so you may find yourself studying by the sea or in a quaint small town.
Here is a rundown of each of the colleges & universities:

Brown University
Ranked #10 Best Value School and #14 for National Universities! Brown University is an Ivy League private school that is located in the capital city of Providence. Brown has been around since 1764, educating over 6,000 undergraduate students each year. Students who study at Brown University have the pleasure of attending the only major research university in the U.S. where undergraduates have the ability to build their own course of study. Common areas of study include biology, economics and computer science, although there is a breadth of majors available. Another major perk of attending this prestigious school is the chance to enroll in a dual-degree program with RISD due to their close proximity. How cool! This is a great school for students who prefer smaller classes; about 70% of courses have less than 20 students in each. If you're looking to go to sporting events on the weekends, Brown has 35 NCAA Division I athletic teams and also competes in the Ivy League!
Bryant University
Ranked #9 Northern Regional University by US News! Bryant University is a private school located in the town of Smithfield. Bryant University is known for it's variety of business programs such as accounting, marketing and business administration. In fact, Bryant's business program is among the top 10 in the US, according to College Factual. 99% of Bryant's class of 2016 were employed or enrolled in graduate school within six months of graduation making Bryant a very safe choice. This could be due to the fact that 100% of courses at Bryant at taught by experienced professors and not teaching assistants.
Bryant is considered a small university with a little over 3,000 undergraduate students with a 60/40 male-to-female ratio. All students graduate with both a major and a minor. Students should expect bigger classroom sizes at Bryant since 75% of classes have 20-49 students. In addition to their unique business programs, Bryant is a part of NCAA Division I - Go Bulldogs!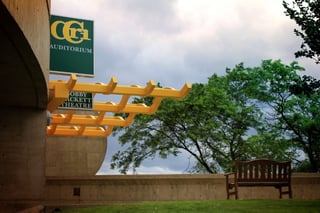 Community College of Rhode Island (CCRI)
The Community College of Rhode Island is a large public college with the main campus being located in Warwick. There are also four other campuses across RI and a satellite campus in Westerly, RI. CCRI enrolls almost 18,000 undergraduate students from different backgrounds and interests. Due to their vast student population, CCRI is able to offer a large variety of majors, programs and certificate programs. Many students who begin their education at CCRI choose transfer to a state college or university after 2 years of commuting. You may even have the opportunity to do your first two years at CCRI tuition free through the RI Promise program. RIC, URI and other in state colleges gladly welcome CCRI students to apply to their university as a transfer student.
Johnson & Wales University (JWU)
Johnson & Wales University is a private school that is located in the heart of Providence. JWU operates on a trimester schedule, allowing students to take a variety of classes. There a four campuses you can choose from: Providence, Miami, Denver and Charlotte. Students can study in areas like food service management, hotel administration, culinary arts and a ton more! If you're considering the hospitality industry, this may be the right place for you. JWU is a large school with just under 9,000 students with a 40/60 male-to-female ratio. Students who enjoy socializing and going to sporting events will be happy to know that the Wildcats are a part of NCAA Division III.
New England Institute of Technology (NEIT)
New England Institute of Technology is located in East Greenwich with a 67/33 male-to-female ratio. NEIT has approximately 2,000 undergraduate students studying in some of the following areas: automotive mechanics, nursing, computer systems, networking and telecommunications. NEIT focuses on teaching their students technology careers through employer-driven education.
At NEIT, they believe and affirm that every student can learn; they recognize that different students may learn in different ways with differing levels of ability; and they recognize the importance of creating a learning environment in each classroom and laboratory that both challenges and supports each student.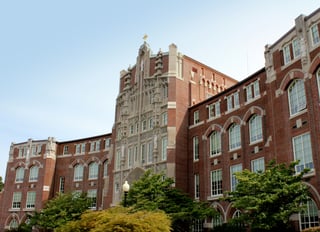 Providence College
Rated #1 Northern Regional School! Providence College is a small catholic school located in Providence with about 4,000 undergraduate students. PC has a unique core curriculum with the first two years being built upon the Western Civilization Program. There are 4 schools in which students can attend: School of Arts & Sciences, School of Business, School of Professional Studies, and School of Continuing Education - with nearly 50 majors offered to students. Half of the classes that students take will have less than 20 students in the classroom. Students will always have something to do on the weekends, whether they go downtown or choose to attend a Friars NCAA Division I sporting event.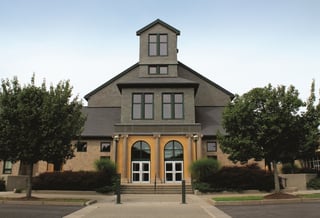 Rhode Island College
Rated #47 Top Public School! Fun Fact: Rhode Island College was the first public institution of higher education in Rhode Island. RIC is located in Providence and educates over 7,000 undergraduate students. Students enjoy RIC because it has a variety of majors and programs with 5 schools to choose from: Faculty of Arts and Sciences, Feinstein School of Education and Human Development, School of Management, School of Nursing and School of Social Work. RIC students have an opportunity to become involved in the RIC community by joining dance groups, choirs, bands, etc! If athletics are your thing, RIC is a part of NCAA Division III athletics.
Rhode Island School of Design (RISD)
Ranked #1 Best Colleges for Design in America! Rhode Island School of Design is a small private school located downtown Providence with about 2,000 undergraduate students. RISD works in a 4-1-4 academic schedule. This means that there are 2 full semesters, one in the fall and one in the spring, then there is a winter session that lasts about 1 month. RISD has a lot of great on-campus resources such as a nature lab with animals, plants and specimens. There is also an extensive art museum with rotating exhibits. There are about 20 bachelors and masters programs with a degree in fine arts being the most popular. Students can expect that over 75% of their classes will have less than 20 students. RISD has no varsity athletics but does offer recreational teams, if students are interested. If you attend RISD, you will also have the opportunity to take a host of classes through Brown University or even enroll in the Brown-RISD dual degree program.
Roger Williams University
Ranked #35 Northern Regional University! Roger Williams University is a small private school located in the beautiful town of Bristol. There are just under 5,000 undergraduate students that attend RWU annually. Students are attracted to RWU because of their academic rigor and location. Students have the option to study business management, architecture, marketing, homeland security and much more! About half the classes offered have less than 20 students in each class, making it easier for students to get to know one another and the professor. Those who choose to participate in athletics can choose to either be on a NCAA Division III team or play on an intramural team for a less intense experience.

Salve Regina University
Ranked #21 Best Value School! Salve Regina University is a private catholic school that has a stunning oceanfront campus in Newport. If you can't decide if you want to be in a town or a city, Salve might be the right choice for you. While a student at Salve, you can easily remain on the quiet campus and read a book by the water or head to downtown Newport and go to one of many restaurants for a meal. Salve educates over 2,000 undergraduate students with 48% of classes having less than 20 students in them. While attending Salve, students have a variety of majors to choose from like business, education and nursing. The male-to-female ratio is 28/71. Most of Salve's athletic teams are a part of NCAA Division III athletics, but also has a number of intramural teams open to everyone.

University of Rhode Island
The University of Rhode Island is a public institution that is located in Kingston with several colleges: College of Arts and Sciences; College of Business Administration; Alan Shawn Feinstein College of Education and Professional Studies; College of Engineering; College of the Environment and Life Sciences; College of Health Sciences; College of Nursing; College of Pharmacy. In addition to their main campus, they also have 3 smaller campuses located throughout Rhode Island. URI has over 13,000 enrolled undergraduate students. Being such a large school, they are able to offer over 80 undergraduate majors! Helloooo options. If students are interested in athletics, the Rhody Rams are NCAA Division I (there are 18 varsity athletics teams) but have recreational or intramural options as well (there are 19 club teams!). If athletics isn't your cup of tea, students can choose to pledge into one of 20 fraternities or sororities on campus.
If you need assistance making a college list or narrowing it down, make an appointment online with our College Planning Center counselors. All appointments are free of cost - we encourage families to meet with us to help navigate the college planning process with ease.