Here's the most important thing for you to know about your career: you can decide exactly how it will look.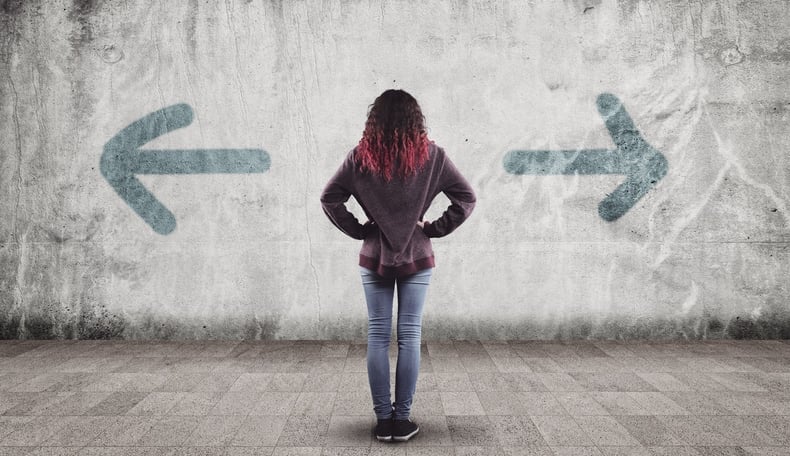 First, spend some time thinking about what you enjoy doing and researching potential careers.
Do your hobbies align with a professional path? If your dream job is playing video games for a living, you're going to have a tough time finding work. But working for a company that develops gaming consoles or PCs is completely possible. Sports, fashion, finance, restaurants – what industries interest you?
What are your skills? It doesn't matter what your friends or parents can do, your career will be built on your personal strengths and weaknesses. If you're a confident public speaker, look for ways to exploit that talent professionally. Teachers, trainers, and industry leaders spend lots of time addressing groups for a living. If you're a math whiz who doesn't much care for groups of people, you're in luck. The entire world is built on an infrastructure designed by engineers who have a knack for math and science.
In addition to researching what people do in different careers, also research how much people get paid. How does the salary align with the life you want to have? Will you be able to afford your debts?
If you want to know more about a particular field, ask! Informational interviews are free, easy to obtain, and one of the best ways for you to learn what a working professional really does during the day. If you like the idea of being a Physical Therapist but want to know more, call up some local offices and schedule an appointment to talk to a PT about her work. People are likely to be generous with their time if you're polite and inquisitive!
Make sure to research the company/agency/organization and your interviewer, even though informational interviews are informal. You want to come prepared with questions that will help you to develop a comprehensive understanding of the field. "Could you walk me through a regular week in your professional life?" is a good starting point!
Make sure to thank your interviewer in person, then send a quick thank you email as well. If you're ever in a position to intern or apply for employment with your interviewer, you want to be remembered as sincere and polite.
How do you build a career?
This is where things get complicated, because a career is truly built on a million tiny steps. The trick is to be mindful of each of those steps – to take jobs that will further your career, to move on when it's time, and to make the most of each opportunity.
Every professional opportunity is important. If you work part-time in food service, be the best waiter anyone has ever had. You'll need a recommendation down the road, and every positive interaction with a customer has the potential to become a new networking opportunity. If you're given a chance to work more, or work harder, do it. Take on new responsibilities, even if you aren't sure it's worth your time.
Strive for a balance of financial freedom and enjoyable work. It's a constant struggle, but if you make that balance your priority you're likely to enjoy a rewarding career.
If you're looking for work, internships, or just advice on how to best proceed, follow our blog! Remember that as many as 70% of interns are later offered full-time job opportunities, so if you're a student looking for that next step, prioritize your internships now. Big smile, big handshake, and stay positive. The working world is a pretty awesome place if you're committed to doing it right.