If you are a high school student - or parent of one - college is likely on your mind. We regularly give advice about best college planning practices through the lens of the RISLA College Planning Center. But this month, we had the rare opportunity of gathering most of Rhode Island's high school guidance counselors in a single room, and we wanted to take advantage of that! Below, we have outlined five of today's most pressing college planning questions, rounded up the best answers from our state's school counselors, and aggregated some common themes to help you on your journey to college.

What high school courses should students enroll in to best prepare themselves for college?

Below, we have graphed the five most common themes we saw in the guidance counselor's open-ended answers. Not surprisingly, many thought taking Advanced Placement or Dual Enrollment courses was a great path to properly preparing students for college. But at the very least, counselors urged students to make sure they were taking the course load required by most colleges: typically 4 years of English and math, 3 years of history or social studies and 3 years of science, and 2 or more years of a foreign language. However, you should always check individual college requirements to make sure you will qualify for admission before enrolling in courses each semester.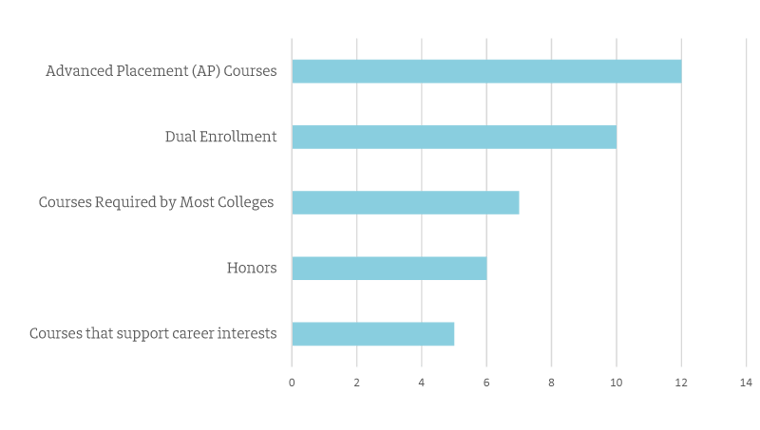 "Students should enroll in classes that challenge them to think critically and outside the box. They should also choose electives that interest them and that give them the opportunity to see if it's something they may want to pursue." - Leslie Hackbarth, School Counselor, Saint Raphael Academy
"Courses that will meet the college requirements (i.e. English, math, science, and history). However, students should also consider attempting a dual enrollment course or AP course. Students who have a good sense about their field of interest should consider taking additional courses applicable to that field (i.e. engineering = higher level math). If available, students should also consider some form of financial literacy course, as well." - Helena Johns, School Counselor, Highlander Charter School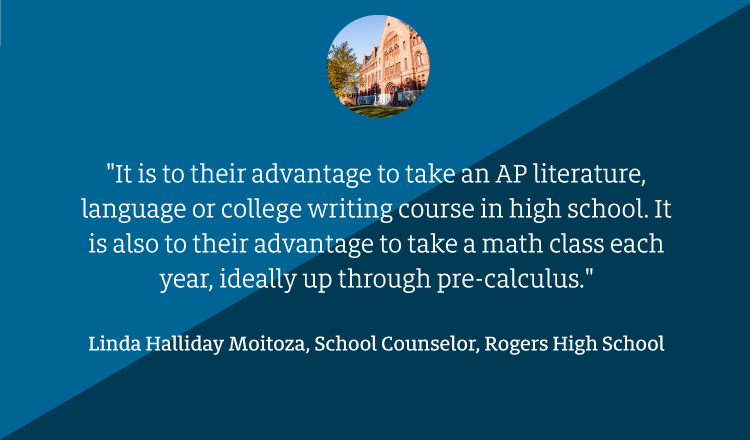 "Students should enroll in the most rigorous schedule they can handle. They should also use high school to explore their areas of interest." - David Tedeschi, School Counselor, Dr. Jorge Alvarez High School
"I push my students to enroll in AP/college prep classes in order to better prepare themselves for college work. I also recommend they take dual enrollment classes or enrichment programs at the local colleges even if they do not plan on attending those colleges." -Tatiana Reis, High School Advisor, Woonsocket High School
What advice can you offer to students who don't have a planned career path as they search for colleges?
There were also some common themes in answers to this question. Namely, students should use online career interest inventories to narrow down a list of careers that are a good match for their personality and passions. With that in mind, many school counselors recognized that students often enter college undeclared, and urged students to apply to schools with a large variety of majors, and explore careers hands on through job shadowing and internships. Another great piece of advice? Keep your borrowing amounts low (since you can't project your future earnings) or take advantage of the RI Promise program during your first year.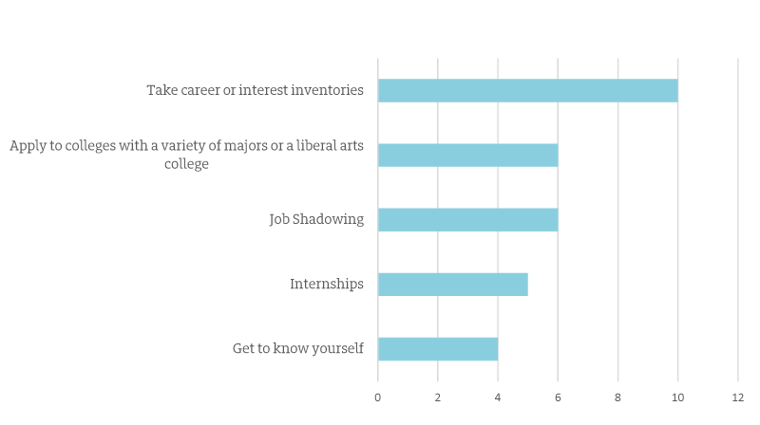 "Go to career research websites to explore careers, take interest inventories, and take advantage of job shadowing opportunities to see jobs first-hand. Talk to people in careers of interest - have a list of questions to ask. Go to colleges and speak to professors in various majors to learn about the majors, courses, and careers that major may lead to." - Kathlyn Coleman, School Counselor, Scituate High School
"Students who aren't sure of a career path should focus more on their preferred learning style as they look for a college. Being in a comfortable learning environment will help students understand what they might want to do." -Kara Komprathoum, Brown College Advising Corps Member, Hope High School
"I would advise the students to either explore a community college or a local state college to start obtaining general education credits. If the students have a few career field interests, I would encourage them to explore colleges that may allow them to take a few courses in their interest areas to be able to better define [the major they want to pursue] post admission." - Kristen Boulay, College & Career Counselor, Beacon Charter High School for the Arts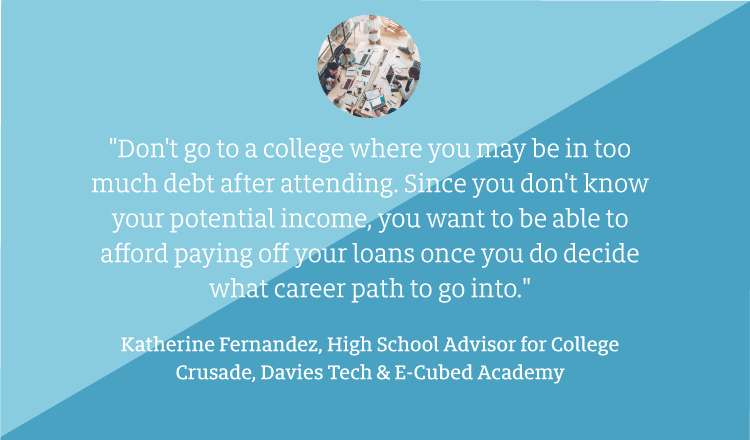 "Take full advantage of resources around you. Faculty/staff at your high school, family members, etc. They take notice of your skills & ability. See them for advice." - Diego White, College Access Coordinator, Blackstone Academy Charter School
"Select a school that has a wide variety of opportunities and try courses you may never have taken. Avoid "specialty schools" if you are unsure of your major. Take advantage of internship opportunities. Get to know the people in the career development office in college." - Anne-Marie Flaherty, School Counselor, East Greenwich High School
"Get to know yourself. You need to learn your likes (passions) and dislikes. It's important that, when you are in high school, you explore who you are and take advantage of what you learn throughout high school." - Lee Shonel, College Adviser, Central Falls High School
"Students should begin with their interest/hobbies. Taking this into consideration will give students a start. Interest inventories are helpful and also generate ideas. Students should explore clusters and look for the many jobs within those clusters. Many students do not know about [all of the] careers that fall into a career of interest. For example, a student interested in the medical field may automatically assume his/her options lie within becoming a doctor or surgeon. The reality is there are other careers within that particular field." - Helena Johns, School Counselor, Highlander Charter
"[Students should] take a personality test (Myers Briggs) or even a career test to see what best fits them and their personality. Students can explore different workshops in certain subject areas to help determine their path." - Mallory Moniz, College Advisor, Shea High School
"Take strong core courses in high school and look for colleges with a variety of majors and certificate programs." - Marianne Davidson, Head of Guidance, Hope High School
When it comes to getting employed after college, does college major matter?
We grouped school counselors' answers into three main categories. Some strongly believe major matters in determining your career path. Others believed that whether or not your major matters depends mostly on the career path you are pursuing. A small set of counselors thought developing transferable skills (think critical thinking, problem solving, and communication), pursing internships, and developing a solid network were more important than college major.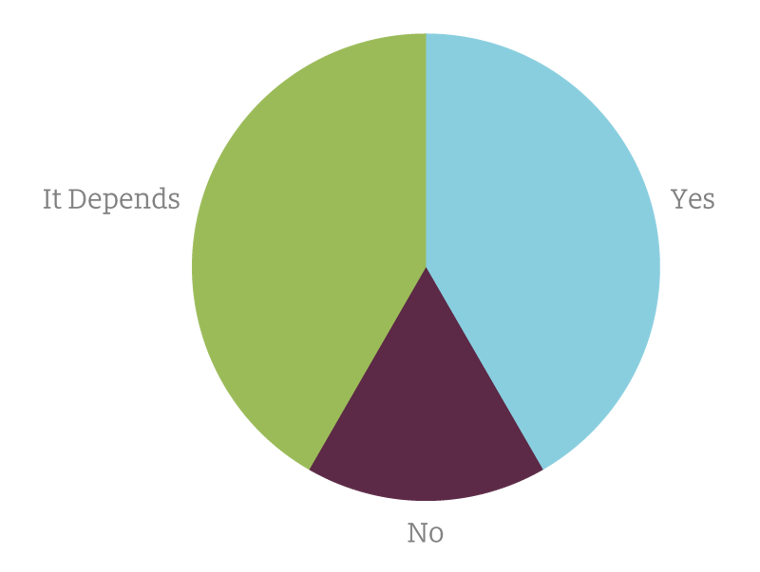 "Considering the cost of a college degree these days, gaining employment after college is crucial. Students should be researching the job market, and pursuing a specific career-focused major." - Kristin DeHertogh, Guidance Counselor, Juanita Sanchez Educational Complex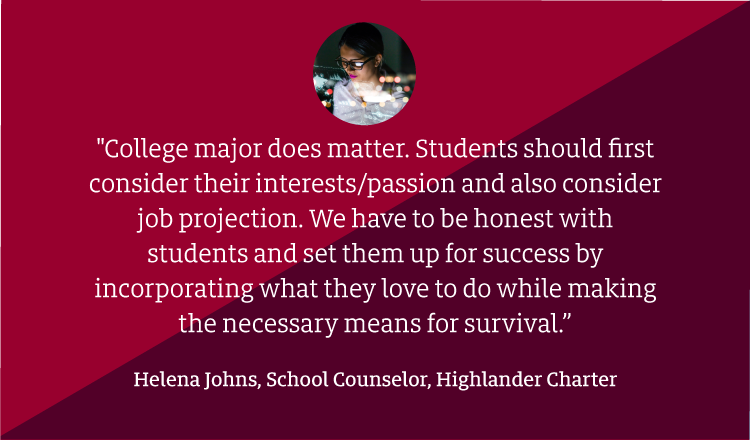 "It depends on the job, but as long as you do well in college, you are marketable for many careers." -Melissa Lipa, Teacher Leader Guidance, Mt. Pleasant High School
"Yes, pre-professional majors lead themselves to employment, particularly engineering, nursing, computer science, and pharmacy." - Beth McCarthy, School Counselor, East Greenwich High School
"It does matter, but it is not everything. Don't waste your money doing a major you hate. Do what you love and learn the best way to network, make connections, and build a community that can help you get employment after college." - Tatiana Reis, High School Advisor, Woonsocket High School
From your point of view, would colleges rather see students taking more difficult classes and earning lower grades or students taking less difficult classes and earning higher grades?
The majority of counselors agreed on this one. Most advised students to pursue the most challenging courses possible, even if it meant sacrificing an 'A' to show colleges their dedication to learning and to demonstrate they can handle the rigor of college.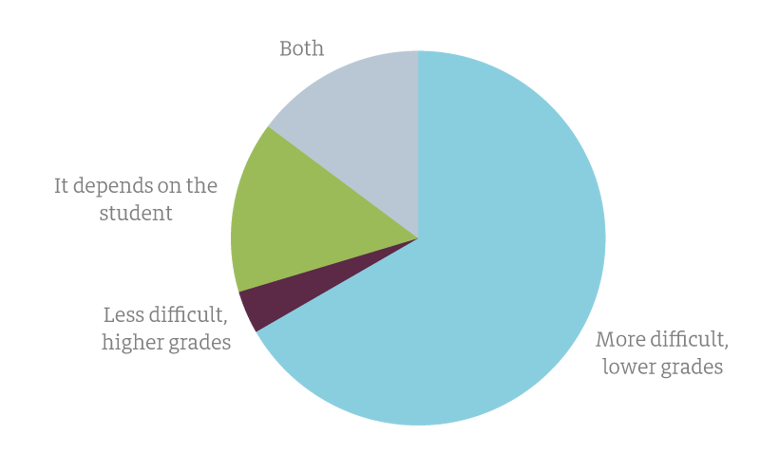 "Most college reps I've spoken to feel that taking more rigorous courses is favorable." - Kathlyn Coleman, School Counselor, Scituate High School
"I think it's important to consider both. Our goal should always be to set students up for success. It is always good to push students but not too far. Let students explore their capabilities. If a student is doing well and solidly average, give them a gentle push, and help them face a challenge. Colleges want to see that students can handle pressure and a challenging course. In my opinion, it's a positive reflection of that student. However, if a student works hard just to get by, that student displays a strong work ethic regardless of whether or not he/she takes a difficult course." - Helena Johns, School Counselor, Highlander Charter
"Rigorous classes are important - but you should not over-schedule yourself." - Henry Donnelly, Guidance, Central High School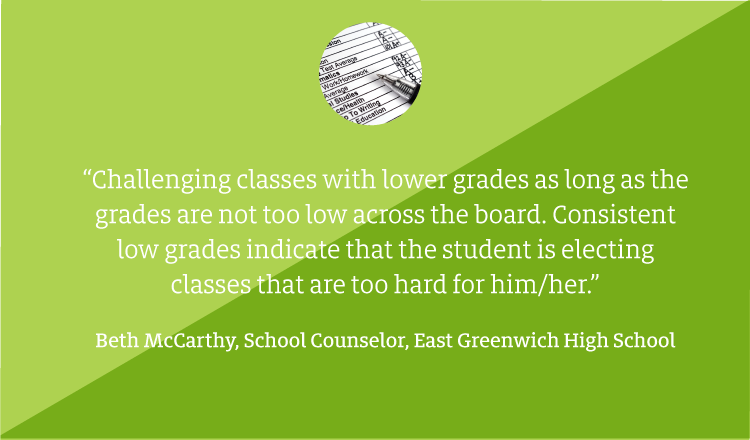 "I believe colleges would rather see more difficult classes - rigor matters!" - Nikki Araujo, Guidance Counselor, Tiverton High School
"I believe if students can earn a B in the higher level course, they should take the higher level course. If the grade is likely to be below a B, they should take the lower level class." - Mia Toro, Guidance Counselor, North Kingstown High School
"Colleges like to see students challenging themselves in the most difficult classes they can manage. That doesn't mean students have to be a straight honors or AP students, but if students can push themselves, that is what colleges want to see on a transcript." - Leslie Hackbarth, School Counselor, Saint Raphael Academy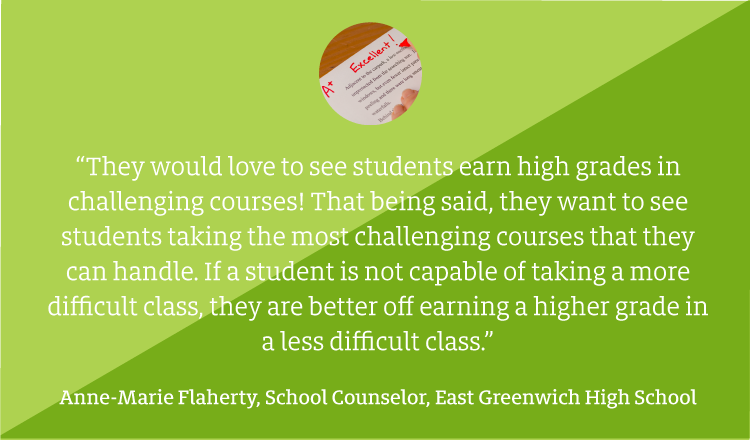 "I think colleges would prefer to see students who are challenging themselves with difficult courses and potentially lower grades than higher grades in less difficult courses." - Kristen Boulay, College & Career Counselor, Beacon Charter High School for the Arts
"More difficult classes and earning lower grades. Students need to show rigorous, challenging courses instead of less difficult classes and earning high grades." -Lin Taing, Guidance, E-Cubed
"Difficult classes and lower grades demonstrates the students are challenging themselves." - Max Silva, High School Advisor, JSEC/360/Paul Cuffee
What kind of students benefit most from taking a gap year?
We saw a bit of concern among guidance counselors when recommending who a gap year might be best for. Some worried that once students have a year away from school, they may not ever enroll in college. However, there were some reasons that guidance officers felt students might benefit. Top among them were if the student has a solid plan in place for their gap year, like pursing an internship, traveling, or joining AmeriCorps, CityYear or another service project. Secondly, counselors believe that students who needed some time to mature in order to be successful in college might benefit from taking a year off.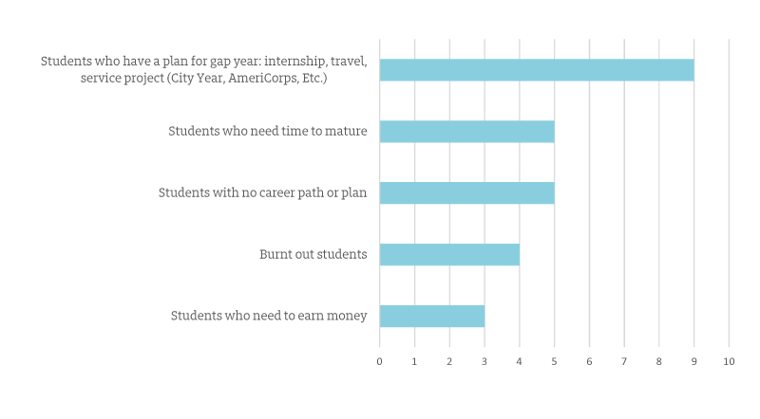 "Students who still need to mature or who have a definite plan for an exploratory year in order to identify and confirm a career path. City Year, Peace Corps, Year Up are good programs for exploration during gap year." - Lynn Harrigan, School Counselor, Hope High School
"Students who really feel they need a break from academics and may want to do a year of service, yet they are motivated to further their education." - Linda Halliday Moitoza, School Counselor, Rogers High School
"Students who may not be emotionally ready for college. There are so many factors that play into this. Financially, it may make sense for them to work and save a little before going to school. Maybe they have a family situation or an obligation that prevents them from enrolling right away. A lot of students can benefit from a a gap year. It just depends on their circumstances." - Leslie Hackbarth, School Counselor, Saint Raphael Academy
"Straight-A, top of class, self-determined students. Any other students, we risk losing. If college is the next step, our students need to go straight to college." - Max Silva, High School Advisor, JSEC/360/Paul Cuffee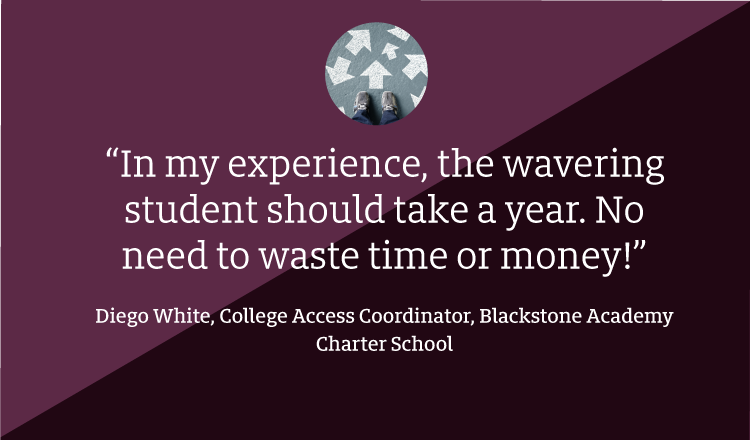 "Students who have challenges that are overwhelming and students who have work or an internships opportunity that will support their post-secondary goals." - Katherine Wilson, Post-secondary Support & Partner, Paul Cuffee
"Unfortunately, since RI Promise is not eligible to students that take a gap year, I wouldn't recommend this." - Melissa Lipa, Teacher Leader Guidance, Mt Pleasant High School
"Students who are not emotionally or socially ready for the college education pathway. Some students are not mature enough to be able to independently navigate college from high school." - Kristen Boulay, College & Career Counselor, Beacon Charter High School for the Arts
"Students that had a shaky high school career who might need some time off to self-reflect and explore the world through employment or significant service projects." - Anne-Marie Flaherty, School Counselor, East Greenwich High School
"Students who are extremely hesitant about college, yet confident and independent enough to seek out resources to apply to college after the gap year has ended. Those students, if they wish, will be determined to return to post-secondary education." - Tatiana Reis, High School Advisor, Woonsocket High School
---
Want more college planning advice? Download our College Planning Guide and learn about application requirements, financial aid, and more.