One of the biggest mistakes college bound students and their families make is that they don't apply for financial aid because they don't think they will qualify. But we have got news for you: EVERYONE should apply for financial aid for college. If you think your family makes too much money or somehow doesn't fit the "financially needy" persona, you still could be eligible to receive aid. Use every opportunity you can to get funds to pay for college. You have nothing to lose by submitting an application!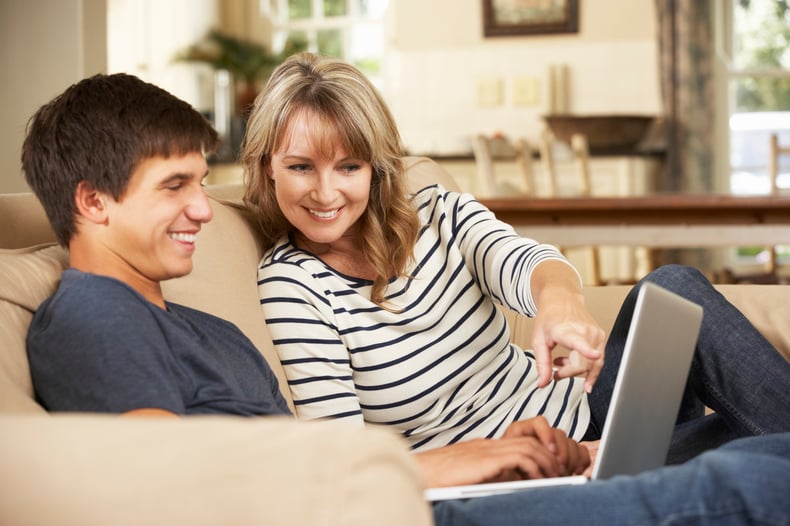 Just last year, the federal government moved back the release the FAFSA, to Oct.1, a whole 3 months earlier! The earlier date means a couple of things. First, families can use their most current tax filing to complete the FAFSA instead of having to rush to get taxes completed in order to apply for aid. Secondly, the three extra months means some schools will send out financial aid awards earlier, giving some families and students more time to compare offers, determine which college is most affordable and come up with a plan for financing a college education.
Below, we have outline the steps you'll need to complete to applying for college financial aid.
FSA ID
When applying for financial aid, one of the first things students and parents need to do is create an FSA ID. This ID serves as your "signature" when filling out the FAFSA. Each ID is unique and no one should be sharing an ID, even if you are a student and parent filling out the FAFSA together. Apply for your FSA ID as soon as you can because it can take up to 3 days to confirm your information. If you haven't already, create an FSA ID here. In order to be eligible for the most funds possible, you want to submit your FAFSA application before your school's deadline.
Gather Documents
The FAFSA requires a lot of information, so gather all the necessary documents ahead of time to make the process move more quickly. This includes:
Last year's Federal Tax return for parents and students
Last years W-2 or last paystub
Parent's date of marriage and if divorced, date of divorce
Resident card number (if applicable)
Know how much is in your checking and savings accounts (parent & student)
Annual amounts of untaxed income received in the household (SSDI, child support)
Total value of all investments (stocks, bonds, 529 plans, mutual funds, CD's)
If you own a business, know the total value of the business (buildings and equipment) and how much you owe on the business
A list of schools the student is applying to
Data Retrieval
If you have the option, use the IRS data retrieval tool (IRS DRT) while completing the FAFSA. The IRS DRT connects directly to the IRS, pulling your tax data into the FAFSA form. If you choose not to use the IRS DRT or it's not available to you, you can manually input all of your tax information. The FAFSA website provides additional assistance of how to fill out the FAFSA without the IRS DRT.
Add Colleges
It's easy to send your FAFSA to your desired schools. The form allows you to quickly search and select the colleges you want to send your FAFSA to.
Did you forget to add or get rid of a school? You can add or delete schools even after you submit your FAFSA. Simply login and make the desired correction.
Additional Forms
Keep in mind that some schools require additional financial aid info. This could be as simple as confirming the number in household or verifing your current income. Or it may mean you need to complete a second financial aid application, such as the CSS Profile. Be sure to check with each school for requirements. You don't want to miss out on any financial aid because you didn't follow the instructions.
Student Aid Report
You will receive your Student Aid Report (SAR) after you submit your FAFSA. Depending on how you submitted your FAFSA you can receive your SAR anywhere from three days to two weeks. Your SAR is a paper or electronic document that summarizes the information you submitted on the FAFSA and gives you some basic information about your eligibility for student aid.
FAFSA Corrections/Changes
If you find any errors on your Student Aid Report, or your situation has changed, you will want to update your FAFSA. You might need to make could be something like you made a mistake, your dependency status has changed or if you want to add or get rid of a school. You can make these changes on the fafsa.gov website. If your circumstances have changed drastically since your last tax filing (job loss, death in teh family, illness, etc), your school may be able to use "professional judgment" to override the information in your FAFSA and aware more aid. If this sounds like you, make sure to contact each school's aid office and explain your situation.
Does all of this seem overwhelming to you? You are not alone! Instead of struggling throught the FAFSA or CSS Profile yourself, you can get free assistance from a RISLA College Planning Center counselor. Simply book an appointment online.