College is a big investment and you want to make the right decision. Be well informed and prepared for when you have to make your final decision. There are many aspects to consider: major, location, costs, and more. The earlier you get started the better prepared you will be to make the best decision for you.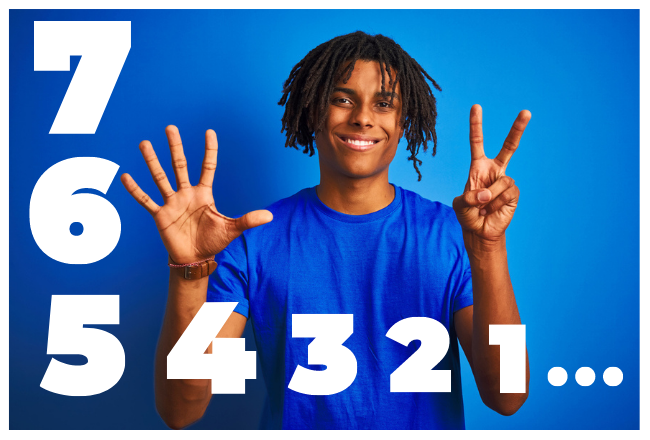 Doesn't it seem like just yesterday you were excited to start your freshmen year at high school? Fast forward a few months and it will be fall and you will be a senior and it's time to prepare for your final year. There is so much to do your senior year and graduation will be here before you know it. So get a head start on the important stuff, so you can focus on the fun stuff as the year approaches.
2. DON'T BE A PROCRASTINATOR
You have options available to you after your graduation but it takes time to narrow them down, 4-year college, 2-year college, trade school, gap year, or military all options are worth looking into given your specific interests and career goals. Take a look at these options to compare the cost of education and training to get to your desired career and how will your starting salary help you pay off the training and education required for this career. You can visit career resource sites like dlt.ri.gov or onetonline.org to gather initial facts and figures. If college is your goal after high school, start a college search on
www.collegeboard.org
or Naviance, if your school uses that tool.
3. QUALITY SCOUTING TAKES TIME
Making a list and checking it twice is not just helpful for Santa 😊. Once you have your college list somewhat narrowed (maybe your top 10), put in the time and take some virtual tours, schedule on-site tours, and ask to sit in on a class. Also, follow these schools on social media to see what's happening on campus. You have summer break coming up. Schedule a morning or afternoon at a local school with a parent or friend just to get a feel for how tours work. Once you have a tour or two under your belt and if you still have interest in out-of-state schools, no time like the present to convince your family into a summer road trip. Make it fun, not work! So much to see, don't miss out! Starting now will allow you time to possibly visit several of your top choices so you can get a true feel for the college itself.
4. Planning Ahead, Pays Off
You will need to ask teachers for recommendation letters. Doing this by the end of junior year will allow teachers time to plan and write a strong recommendation letter. Different colleges have different requirements for whom they would like recommendations from and how many, so again check the admission websites for your top choices to be sure you are asking the right people and for the right amount of recommendations. Tip: When you return in the fall, all the seniors who didn't plan ahead as juniors will be requesting recommendations too, so get your request in early. One less thing to follow up on and stress about.
5. YOU HAVE A BETTER STORY THAN YOU THINK
It's easy to forget what you've done 4 years ago, so taking the time now to make a high school resume with a list of any activities, grades, accomplishments, awards, and leadership roles will give you a BIG jump start for you when you complete your college applications and later scholarship applications. Don't forget to list everything you've been involved in during/after school, part-time work, volunteer work, sports, membership in school organizations and clubs, scouts, and other outside organization participation. If you start this now, it will give you time to fill in something you may have forgotten over the summer so you will have the most complete list when you submit your applications. Remember admissions officers are looking at the whole student, not just your GPA and standardized test scores.
6. THE APPLICATION MATTERS –IT REPRESENTS YOU!
Senior year comes fast and your applications will be due by December (sometimes as early as Oct). Beginning the process early will help you to put the best version of yourself in front of the schools you want to be accepted at. The Common Application is typically available to begin completing on August 1st. But if you want to look at the essay questions ahead of time, they are traditionally available to view before completing the APP. Take a look at these questions and jot down some notes and possible topic ideas to write about ahead of time on a question or two that fits your personal story and will help you stand out from the crowd.
7. COLLEGE PLANNING CENTER IS HERE
The College Planning Center is a local resource that has been assisting students and families prepare for college since 1998. We have talked to thousands to help guide them in this very important process and work with students every step of the way, from helping to build a college list, review the college essay, common application tips, financial aid information, completion of financial aid forms, award letter reviews and financing options. We look forward to helping you. Schedule an
appointment
with us over the summer months, we can talk about options and point you to many free resources such as guides, timelines, and checklists to get you off to a great start for your college journey!