Student loans are unfortunately an inevitable consequence of going to college for most students these days. The average student graduates with more than $30,000 in debt - some over $100,000 - and college costs are not declining.
You may have heard your friends or siblings complaining about student loans. Many students don't realize how much they borrowed before they graduate and don't really understand the impact the debt will have on their future decisions. That is why it is so important to do your research before you borrow and to limit the amount you borrow for college as much as possible.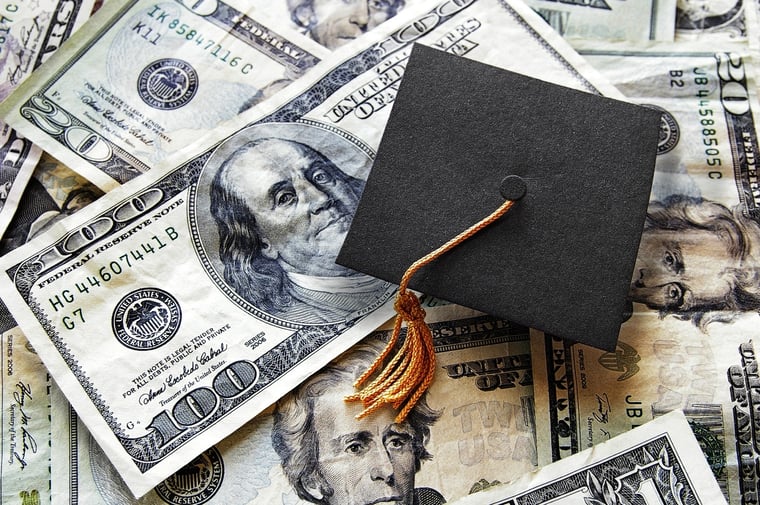 Before you borrow for college, you should always explore any free financial aid options before throwing in the towel and taking on a student loan. Grants, scholarships, and student employment can all decrease the amount you need to borrow. Every dollar you can shave off your borrowing amount is one dollar - plus interest - that you don't have to pay back.
Keep in mind these 5 things about student loans before you sign the promissory note.
1. Student debt is typically not dischargeable in bankruptcy.
Some folks in congress are trying to change this but as of now, you most likely can't get your education debt discharged by filing bankruptcy. For that reason, don't assume you can over-borrow now and just rid yourself of the debt later.
2. Rates come in two forms: fixed and variable.
Remember the big financial crisis of 2008? Home foreclosures rose rapidly and one of the reasons why was that homeowners had begun taking on adjustable rate mortgages. With this type of loan - that is a variable rate loan - your payment changes as interest rates are adjusted. Sometimes those payments change so drastically that you can no longer afford them. Variable rates have been low for about a decade but you should really assess your appetite for risk and your budget's ability to adapt with changes. If rates are to jump, will you be able to afford your new monthly payment?
3. The lowest advertised rates aren't always what you receive.
Only the most credit-worthy borrowers qualify for the lowest advertised rates. When you apply for a non-federal education loan, make sure to pay attention to the application & solicitation disclosures. Your lender is required by law to show you these at the time of loan application. These disclosures can give you a better idea of the rate range that you could potentially receive. Approval disclosures, always required by law on non-federal education loans, will tell you the actual rate you qualified for. Once again, by law, you have the right to cancel your application if you don't like the rate you receive after your loan is approved. It's easy once you have spent the time applying for a loan to just go with it even if you don't receive the rate you were hoping for, and lenders know that. Fight the urge to give in and shop around to see if you can find a better deal.
4. Most experts agree to check out your federal student loan options first.
Federal Direct Subsidized and Unsubsidized loans offer some great low fixed rates and a ton of repayment flexibility. Most experts agree that before taking on any non-federal education loan debt, you should explore your eligibility for these federal student loans first. The rates on these loans are set annually but are fixed for the life of the loan (confusing, we know!!). You must file the FAFSA to learn which version (subsidized or unsubsidized) you qualify for. These loans are awarded to you through the financial aid office at your school. Contact them for details. Keep in mind the Federal PLUS Loan (for parents and for grad students) has higher rates, higher fees, and fewer benefits than the sub and unsub loans, so you'll want to shop around before determining if that is the right option for you after exhausting your annual limits on the sub and unsub loan.
5. Most non-federal loans require a cosigner.
Those programs that don't require a cosigner often have a higher rate or much stricter credit criteria. Have a credit-worthy cosigner lined up if you plan to borrow a state-based or private education loan. This will give you the best shot possible at getting approved and earning a good rate.
Want to know more about college borrowing before you sign the note? Download our guide and learn questions to ask, pitfalls to avoid, and strategies for responsible borrowing.