Getting a job right after college may feel like an insurmountable task if you don't have much experience. You may feel intimidated by your peers who have a better professional profile and have worked in their given industries through internships. However, there are ways that you can make yourself a desirable candidate in the job pool.
The right resume can make all the difference in the world when it comes to landing a good job. Combine your previous experience with the right attitude to pursue the jobs of your dreams.
Here are some resume writing tips for upcoming college grads.
Tailor Each Objective
For every position that you apply, ensure that your objective matches the profile. The objective should give a clear and concise definition of who you are as a professional and what kind of position you aim to land. Make employers aware that you are
decisive and know what you want out of a career. Your objective should be well written but not too lengthy. Remember to edit your objective to match each position you apply for to avoid sending the wrong message to another company.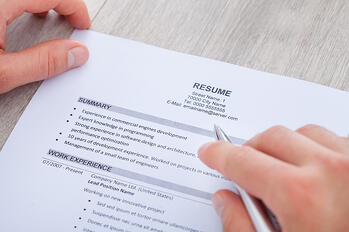 Begin with Your Education
Unlike traditional resume writing would suggest, as a new college graduate you will need to start your resume with your education on top display. Your college career will be the best constant aspect that you have completed in the recent years of your young adult life.
Tell the potential employer what school you attended, when you graduated or are graduating, and your GPA (but only if it helps!). If you don't have a high GPA, consider listing coursework relevant to the position that you have taken. Although you will want to make your education the biggest selling point on your resume, don't oversell yourself. Employers will be aware that you may not have much experience. Be confident in yourself and demonstrate the drive you have to become the best at what you do.
Experience
Chances are you won't have a wealth of experience under your belt as a recent college grad. However, you may have more to offer than you know. Part time jobs that you have had to help make ends meet throughout college can offer you the opportunity to list some crucial skills that you have gained. Even if you have worked at a fast food restaurant, communication skills, teamwork, and flexibility can be listed on your resume and discussed in an interview. Internships, volunteer work, and work study projects need to be listed in this portion of the resume as well. Don't forget to keep everything relevant to the job that you are applying for. You don't want your resume to be thrown out due to a superfluity of unnecessary skills and experience.
Also, keep your resume to one page. Employers take very little time to review your resume and at this point in your professional life, you should be able to convey the full picture in a single page.
With these great tips you can begin writing your graduate resume in a snap. Get more tips on college planning and financial aid for free at The College Planning Center of Rhode Island.